The Fourteenth Light:  The Descent of the Holy Spirit on all flesh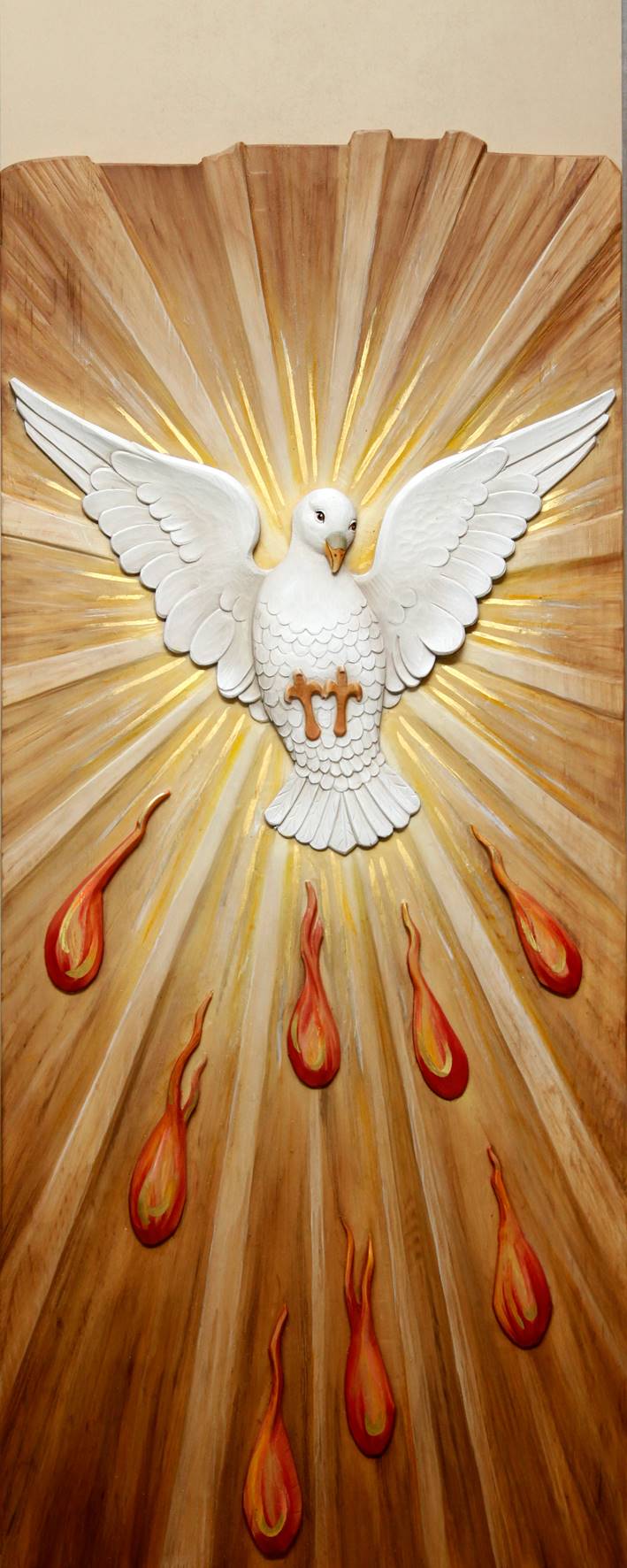 R/. Come Holy Spirit, Lord and Giver of Life,
V/. Come to sanctify us with your Gifts!
A Reading from the Acts of the Apostles (2: 1-11)
When the day of Pentecost had come, they were all together in one place. And suddenly from heaven there came a sound like the rush of a violent wind, and it filled the entire house where they were sitting. Divided tongues, as of fire, appeared among them, and a tongue rested on each of them. All of them were filled with the Holy Spirit and began to speak in other languages, as the Spirit gave them ability.
Now there were devout Jews from every nation under heaven living in Jerusalem. And at this sound the crowd gathered and was bewildered, because each one heard them speaking in the native language of each. Amazed and astonished, they asked, "Are not all these who are speaking Galileans? And how is it that we hear, each of us, in our own native language? Parthians, Medes, Elamites, and residents of Mesopotamia, Judea and Cappadocia, Pontus and Asia, Phrygia and Pamphylia, Egypt and the parts of Libya belonging to Cyrene, and visitors from Rome, both Jews and proselytes, Cretans and Arabs—in our own languages we hear them speaking about God's deeds of power."
Moment of silence
The celebration of Pentecost reminds us that God's Power has truly penetrated the earth: the presence that rushes like a violent wind; that consoles like a warm light; that satiates our thirst with living water… and most crucially… that breaks down all walls separating peoples and people, as one tongue, in one voice, they can sing songs of joy as One Holy People chosen in the blood of the Lamb.
The Holy Spirit who descends fills the earth and sweeps over every nation.
But not always in a way that is easily discernible by the eyes of flesh. Hence, the need for His Gifts, bestowed on every member—each one according to their measure and talent—of the communion of saints. Thus, they can come together to discern his Presence, to be guided by his Light, to be robed in Christ, and thus to touch and heal every broken and wounded reality on earth.
Where the Spirit blows, there the Church grows: from blood, in service, with words of kindness, through the creative potential of so many who, together, give witness of the Good News of salvation.
The Holy Spirit who comes among us is the Light of Love, of friendship, of solidarity, of union. Little by little, as we imitate one another while being patient with one another, with the kindest tenderness we show to one another… the Church gives birth to Peace… Shalom… that changes the world.
Our Father, Hail Mary, Glory be
R/. Come Holy Spirit, Lord and Giver of Life,
V/. Come speak with the words of those whom you divinise!